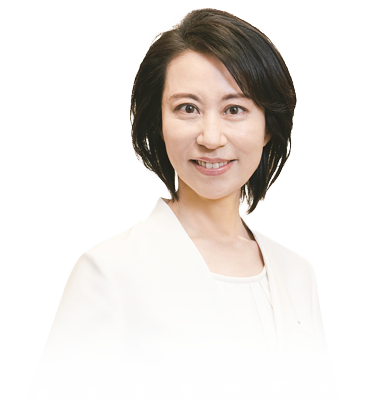 We at Noage are constantly thinking about how to help your skin attain a condition of "No Age".
Even though there are many ways to make skin beautiful, it always depends on the individual. Blotches, wrinkles, and sagging for instance, need to be treated differently for each patient.
So, we always look at your skin very, very carefully, before we make suggestions about how to successfully and professionally treat your skin problems.
It is our great joy and privilege to provide you with a specialized treatment, in order to make your skin healthy, bright, and beautiful.
Director of Tokyo Midtown Skin Aesthetic Clinic Noage


Tomoko Kamishima
Tomoko Kamishima,M.D.,Ph.D.
Dermatologist
Dr. Kamishima strongly believes that a correct diagnosis will lead to the correct and best treatment of your skin. So, first, she will look at your skin carefully, examine it minutely, diagnose, and then provide an advanced and personal cosmetic treatment that your skin specially needs.
She is also strongly interested in the clinical study of regenerative medicine.
Education
1992 PhD. Niigata University
1996 M.D. Niigata University
Experience
1996 Toho University
1997 Tochigi Cancer Center
1999 Kanagawa Cosmetic Surgery
2007 Kamakura Hospital
Professional Associations
Japanese Dermatological Association

Dr. Chie Hirabe
Dermatologist
2003 Graduate from University of Toyama Faculty of Medicine
2003 Kyushu University Hospital
Acquired clinical experience at National Hospital Organization Fukuoka Hospital, National Public Workers Mutual Aid Association Hamanonomachi Hospital, etc.
2008 Kyushu University Hospital

Mayumi Miyamoto, MD
Dermatologist
Graduated Osaka City University Faculty of Medicine in 2003.
Joined Kyoto Medical University Department of Dermatology from 2003,and Tokyo Medical University Department of Dermatology from 2007.
Experienced Dermatology Department of Toda Medical Group in Saitama, joined Noage from 2017.

Dr. Yumi Asaoka
Dermatologist
2007 St. Marianna University school of medicine
2007 Juntendo University Hospital

[Specialty] General skin diseases, atopic dermatitis Botox injection Hyaluronic acid injection, various laser treatments

Dr. Nobuko Saito
Plastic Surgeon
After joining a major cosmetic manufacture graduated from Kansai Medical University in 2004
Research fellow at Kansai University Hospital from April, 2004
Accumulated clinical experience as a plastic surgeon at Kansai University, Kasai Plastic Surgery Clinic, Kawachi General Hospital, Iseikai Hospital, Fujimori Plastic Surgery Clinic, joined Noage from April 2013.
Specialist: Tumors, Burns, Scalds, Keloid Scars, External Wounds, Scar Correction

Dr. Munehisa Kaneda
(Surgeon/ Vascular Surgeon)
Kitasato University Kitasato Institute Hospital Surgery/Vascular Surgery Department Medical Director,Emergency Department Medical Director.
Expert in laser treatment of Vascular Veins, Inguinal Hernia. Medical Specialist of Japan Surgical Society, Specialist Doctor of Japanese Collage of Angiology, Practices Stentgraft Management of Abdominal Aortic Aneurysm, Medical Compression Stocking Conductor of Japanese Society of Phlebology, medical instructor of laser treatment for the Vascular Veins.

Nobuyuki Masaki,M.D.
Aesthetic Plastic Surgery
Dr. Masaki Graduated from the Kanazawa Medical University, Medical Department in 1983. Entered the Juntendo University Hospital Anesthesia Department for 2 years. Established the Kyoritsu Cosmetic Surgery Clinics in 1989 and maintained for over 20 successful years. As a pioneer of Liposuction in Japan, he invented and patented the world famous Masaki Skin Protector (ascar protection device) which is a mandatory and indispensable devise used in liposuction today. Director of the Japan Association of Cosmetic Surgeons Member of the Japan Society of Plastic and Reconstructive Surgery Member of the Lipoplasty Society of North America Member of the Mentor Corporation, USA "Super User" organization for Elite Surgeons